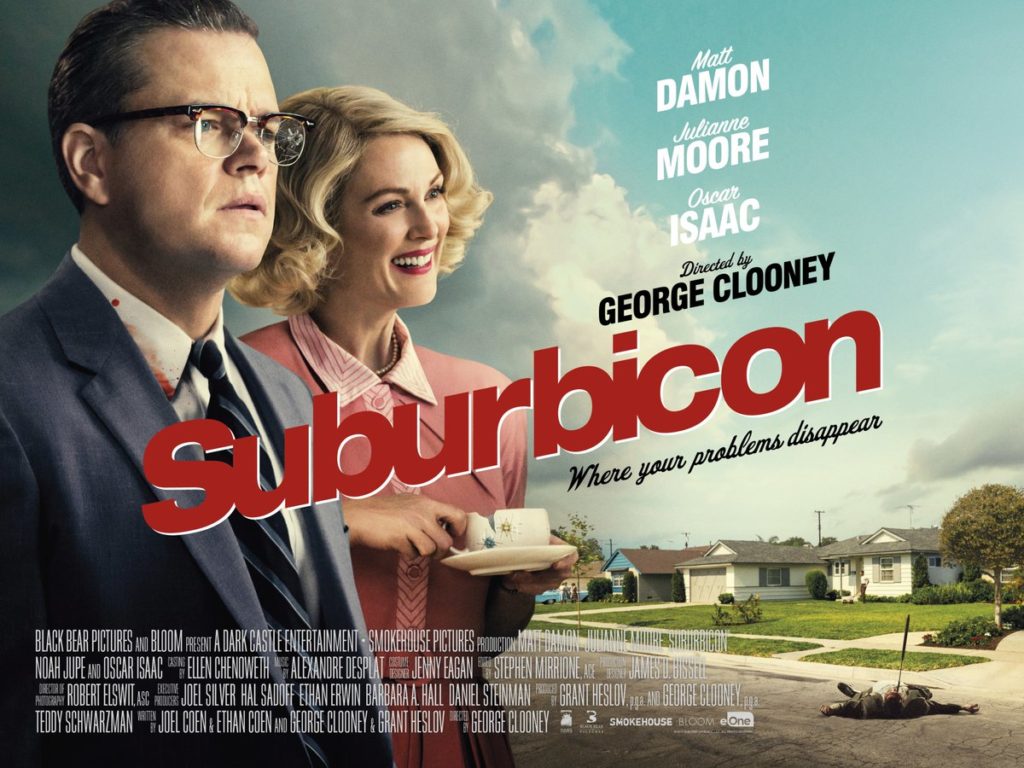 Paramount Pictures released this week the SUBURBICON Blu-ray.  The film is directed by George Clooney, and it stars Matt Damon, Julianne Moore, and Oscar Isaac.
Eric Stanze is the editor and co-producer of all three behind-the-scenes documentaries included on the Blu-ray.
The main documentary, WELCOME TO SUBURBICON is partly an in-depth look at the creation of the film, featuring interviews with Clooney, the cast, production designer James D. Bissell (E.T. THE EXTRA-TERRESTRIAL, TWILIGHT ZONE: THE MOVIE, MISSION IMPOSSIBLE – ROGUE NATION), and cinematographer Robert Elswit (THERE WILL BE BLOOD, THE BOURNE LEGACY, INHERENT VICE).  The documentary is also partly an unblinking look at racism in America – the grim topic that provides the turbulent undercurrent to SUBURBICON's plot.
THE UNUSUAL SUSPECTS is the second documentary on the Blu-ray, and it focuses on SUBURBICON's unique casting – a blending of celebrity A-Listers with lesser known character actors and Hollywood newcomers.  In this short documentary, much attention is given to the casting of 11-year-old Noah Jupe, who delivers a remarkable performance in the film.
SCORING SUBURBICON, the third documentary on the disc, explores the creation of the film's original music score, and features an in-depth interview with composer / conductor Alexandre Desplat (who was recently Oscar-nominated for his music score in THE SHAPE OF WATER).
The SUBURBICON Blu-ray is available here at Amazon.com.