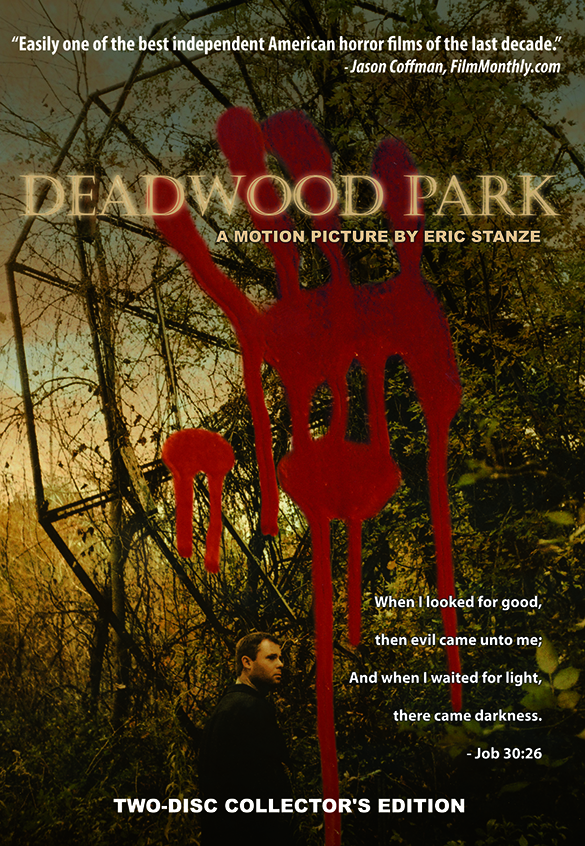 DEADWOOD PARK
When I looked for good, then evil came unto me; And when I waited for light, there came darkness. – Job 30:26
Written and directed by Eric Stanze.
Produced by Jeremy Wallace, Eric Stanze, Jason Christ, and Scott D. Muck.
Starring William Clifton, Lindsey Dee Luscri, Bryan Lane, Jason Allen Wolfe, Ramona Midgett, Dick Mintzlaff, Joseph R. Engel, Daniel Byington, Benjamin Gaa, Matthew S. Sinopole, Paul Wendell, Jessica Boston, and Jason Christ.
This film, inspired by atmospheric horror of the 60's and 70's, is one of the most logistically complex productions ever achieved at its budget level.
Released in 2007.
Winner
Best Feature &
Best Cinematography
Freak Show Film Festival, 2007, Orlando, Florida
 .
"Independent film of the year, by far."
– Deadpit.com, Horror Talk Radio
.
"Easily one of the best independent American horror films of the last decade."
– Jason Coffman, FilmMonthly.com
.
"DEADWOOD PARK is remarkable…  A visually stunning and emotionally powerful piece of cinema."
– Bill Gibron, PopMatters.com
.
"Impressive…  dramatic and quietly creepy."
– Michael Gingold, Fangoria Magazine 
.
"A monumental achievement in the world of indie horror films. Highly recommended."
– Michael Den Boer, 10K Bullets
.
"Haunted intensity…  straight out of a Stephen King novel.  A sight to behold, to say the least."
– Carl Lyon, FEARnet.com
.
"A horror movie that will throw you for a loop. Horrific, disturbing, weird, and cool."
– Frank Estrada, AV Maniacs
.
"Well written, well directed, and well crafted horror."
– Andre Manseau, Arrow In The Head
.
"Beautifully written and directed. The cinematography is quite stunning. It's without a doubt one of the very best looking independent films that I've ever seen… A finely paced film with real substance."
– Steve Tipton, Carnival Of The Grotesque, United Kingdom
.
Synopsis:
The small community of Eidolon Crossing once boasted a flourishing economy and great prosperity, fueled by an amusement park at the edge of town. Then the child murders began. One by one, murdered children were unearthed on the amusement park property. Finally, the macabre publicity shut the park down entirely, and it was abandoned. Jake Richardson is drawn back to Eidolon Crossing, the town where his twin brother was taken from him 25 years ago. The spirits of the many murdered children begin to contact Jake. He is led back to the abandoned amusement park. Here, among the crumbling roller coasters and decaying park grounds, Jake will unlock the horrible secrets of this sinister town.