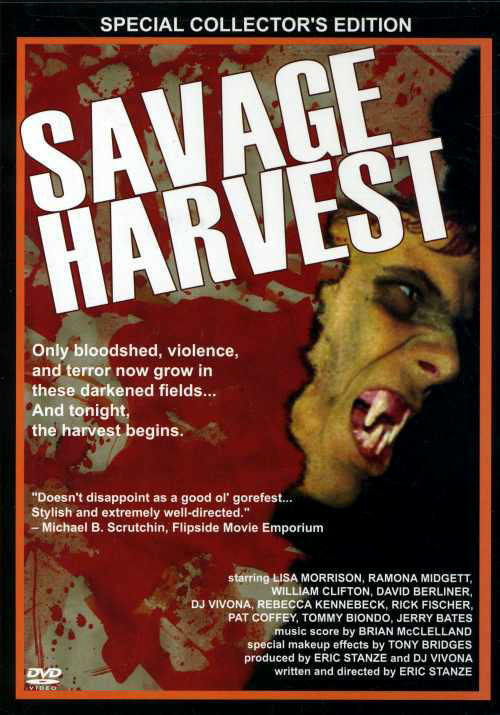 SAVAGE HARVEST
Only bloodshed, violence, and terror now grow in these darkened fields…  And tonight, the harvest begins.
Written and directed by Eric Stanze.
Produced by DJ Vivona and Eric Stanze.
Starring Lisa Morrison, Ramona Midgett, William Clifton, David Berliner, DJ Vivona, Rebecca Kennebeck, Rick Fischer, Pat Coffey, Tommy Biondo, and Jerry Bates.
This is Eric Stanze's first feature-length movie.
Released in 1995.
"…genuinely atmospheric moments of dread… Ample amounts of gore and surprisingly good make up effects make SAVAGE HARVEST a fun horror film…"
– DVDManiacs.net
.
"AWESOME movie!  Wicked and fun and full of mayhem and gore!"
– Thrae Entertainment
.
"It ain't high brow, it ain't terrifying – but it is fun."
– Rogue Cinema
.
"Pretty damn creative… excellent gore scenes…"
– EvilDread.com
.
"…doesn't disappoint as a good ol' gorefest… Stylish and extremely well-directed."
– Flipside Movie Emporium
.
"Stanze has a tremendous imagination. There is great camera work, lots of good ideas, suspense, good effects, decent acting, and most importantly, I was far from bored."
– Shocking Images Magazine
.
"Those with a taste for splatter should definitely put SAVAGE HARVEST on their viewing lists."
– Amazing World of Cult Movies
.
"More than essential viewing for fans of indie horror…"
– Monsters At Play
.

Synopsis:
Years ago, a Cherokee elder summoned into our world an evil that eventually destroyed his entire tribe. Now, on the land that was once inhabited by the tribe, demonic forces await the return of this long-dead Cherokee elder. A small group of innocent people trapped on the land must unlock the riddles left behind by the Native Americans. Demonic possession consumes them one by one as showers of blood drench the earth, and shrieks of pain echo throughout the forest. The possessed are animalistic, frenzied killing machines, feeding on the warm meat of fresh kills!