Horror Society reviews the new 15th Anniversary DVD release of Eric Stanze's SCRAPBOOK:
"The first horror film that I have seen in my adult life that scared me.
…some of the most unnerving pieces of cinema I have seen to date…
…essential viewing for any horror fan."
-HorrorSociety.com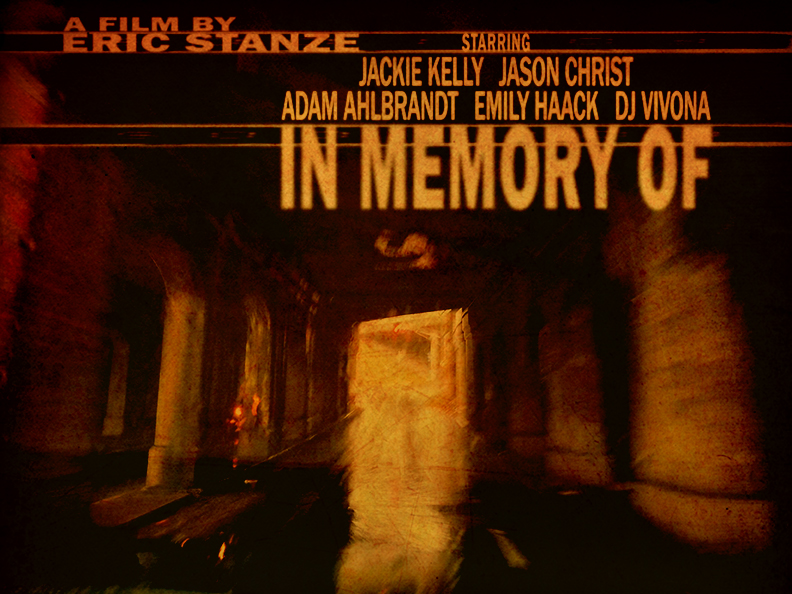 Director Eric Stanze and his creative cohorts are currently submerged in pre-production for the feature film IN MEMORY OF.
The movie stars Jason Christ (RATLINE, DEADWOOD PARK), Adam Ahlbrandt (HUNTERS, THE SADIST), Emily Haack (SCRAPBOOK), and DJ Vivona (ICE FROM THE SUN).
IN MEMORY OF will mark the feature film debut of Jackie Kelly, who delivers a spectacular performance in the starring role of the short film THE DRESS, an Official Selection of the 2015 Melbourne Queer Film Festival, the longest running (25 years) queer film festival in Australia, one of the longest running queer film festivals in the world, and the largest queer film festival in the Southern Hemisphere.
The IN MEMORY OF music score is being created by Gus Stevenson (RATLINE) and Rocky Gray, former drummer of Grammy Award winning, multi-platinum goth rockers Evanescence.
Support the film with a pre-order here.
Casting for the film is nearly complete – there are still a few roles yet to be cast.  Submissions for casting can be made here.
Synopsis:
When a medical experiment turns into a blood-soaked disaster, the only surviving subject flees for her life. Painfully missing her most precious memories of childhood, pummeled by horrific hallucinations, and pursued by those who stand to profit from her damaged brain, Amber Sheridan embarks on a cross-country road trip to track down a mysterious stranger – a man who has the ability to end Amber's madness, and restore the memories that have been stolen from her.
"A masterpiece of soul-crushing, stomach-churning horror."
– DVD House Of Horror
"A terrifying journey… brilliantly-crafted…"
– BloodType Online
"One of the finest examples of a true horror film ever made."
- KillingBoxx.com
"The fact that I find such an excruciatingly ugly and unpleasant film so exhilarating is testimony to the incredible skill with which it was made. I'm almost too tongue-tied to adequately describe how good it is."
- Rue Morgue Magazine
Eric Stanze's infamous, critically-acclaimed, award-winning film SCRAPBOOK is back.  The 15 Year Anniversary Edition DVD of SCRAPBOOK is unleashed this week, and the new disc is jam-packed with bonus features to celebrate a decade-and-a-half of gut-wrenching, high-intensity horror.
Previously unreleased bonus features on this disc:
15th Anniversary Commentary Track by director Eric Stanze, producer Jeremy Wallace, and star Emily Haack.  Recorded August, 2014.
"HOWARD" – A short experimental film by Tommy Biondo.
"Scrapbook Close-Up" Featurette.
Behind-the-scenes stills montage.
DVD also carries over these bonus features from the previous Image Entertainment release:
The Making Of SCRAPBOOK Documentary.
"Shower Cam" Featurette.
Deleted Scene.
Preview Trailers.
Click here for synopsis, preview trailer, and to order the DVD.